The Strength of Community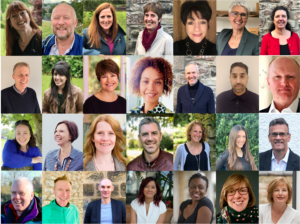 In March 2020, like many other organisations in our industry, we were looking at the future of our delivery work with worry and anguish. We were faced with some questions that we didn't have the answers for:
How could we continue to grow, develop and offer our clients fantastic learning opportunities without the option of being face to face with groups or individuals?
How could we sustain our employed team and our brilliant associate consultant community without work coming in?
What transpired in the weeks and months following those initial fears and anxieties about the situation we were in, was resilience, strength and bravery throughout the L&D community to try something different. To adapt, overcome and embrace new ways of working. We saw this in spades with our clients, and equally we saw it within our associate community who showed a willingness to change and approach their work in new ways that allowed us to offer fresh, diverse and innovative approaches and solutions to our clients.
Our associate consultant community is one of our main USP's and is, put simply, the lifeblood of our organisation. The community consists of a broad range of consultants of all ages, geographies and ethnicities (some of whom have been delivering for many decades). They collectively deliver 90% of our client facing work and they are the ones who bring our values, ethos and content to life on our programmes, and with our consulting and coaching relationships. They bring positive energy, credibility and gravitas.
In the early weeks of the pandemic, what we saw from our associates was, not only that passion to grow and develop and diversify their thinking, but also an abundance and generosity to share with each other. We had sessions on the benefits of different online platforms; we had sharing of models and tools that people had started to develop for online use; we had associates running sessions for one another to help build their competence and skill level in virtual delivery; and we had many Zoom team catch ups just to share, support and network with each other. What we saw was strength and resilience, which we always knew was there, but it blew us away.
From that point, and with the support and investment of some key clients, we were given the licence to develop some really powerful online / virtual programmes that replicated the face to face environment and the experiential approach that VA value so highly. A few key individuals invested time in researching and learning how to use collaborative online tools (such as Miro and Mural) that enabled us to bring concepts to life online and allowed participants to share and collaborate just as effectively as they would do face to face in the room.
Fast forward to May 2021 and we are now in a very different place to this time last year. We are now regularly running multi-modular, multi-day virtual sessions, that receive the same fantastic feedback that we used to get face to face. We are operating on a number of different platforms, running strategic inputs, hosting top team conversations, delivering psychometric group feedback sessions, coaching, consulting and networking, all online.
We wouldn't have got to this place as fast without the passion, energy and commitment from our brilliant associate consultants. When we look back at those initial questions that were causing us to worry back in March 2020, the answer to them both has been the collaboration between VA and our fantastic associate community. Without the generosity, abundance and resilience shown by everyone, we would not be in the position to receive such glowing feedback such as this received from one of our most trusted clients:
'VA converted all of our management programmes to a new virtual design within a very tight time frame and offered us solutions which were better than we could have hoped for. The combination of Zoom and MIRO with more self-directed learning, has enabled us to continue with our development plans for leaders and managers. The content was designed in a way that not only engaged our delegates, but which has seamlessly replaced the experiential elements of our former classroom-based programmes. The feedback has been incredibly positive, even from the sceptics, and the energy and enthusiasm provided by the VA delivery team has been infectious. VA have provided some of the most innovative virtual solutions that I have seen'.
HR Manager, Learning & Development, Defence Sector.
Thanks Associate Team VA for making us what we are and here's to plenty more growth, connection and sharing in 2021 and beyond.
Becky Flight – Head of Operations & Associate Relationships
Back to the

Knowledge Hub