VA believe a work life balance is now becoming a work life blend and a key ingredient to employee engagement. We're supporting our clients to adopt fundamental practices around compassionate, visionary leadership with a straightforward narrative and clear communication. We believe in giving people a voice, developing trust that allows people to bring their best self to work. We're supporting our clients to develop organisational clarity and consistency with equal measures of stretch, feedback, coaching and development.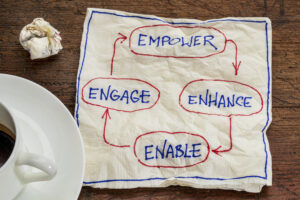 We do this by:
Enabling managers to facilitate and empower rather than control and restrict.
Creating organisational cultures that continually develop skills and capabilities for its people.
Developing mindsets around the value of investing in activities that develop engagement.
What's in it for your business?
Enhanced trust, loyalty and performance, leading to improvements in business measures such as revenue, retention and sickness levels.
Constantly developed skills and abilities that will produce innovations and ideas to drive current and new business.
A positive and productive working environment that attracts and retains the best people.
What's in it for your employees?
Personal fulfilment, connection and well-being.
Clearly defined roles and progression opportunities.
Feeling valued for the contribution they make.
"You can't manage people into engagement but rather through self-direction. Give them autonomy over aspects of their job – time, task, their team and technique. That's how people engage." Daniel Pin