Organisational

Development
Organisational Development is the practice of adapting, improving and evolving an organisation so that it can grow or advance. People and culture lie at its core and determine how effective, competitive and sustainable organisations are. For VA, Organisational Development is an holistic approach to implementing strategy and improving organisational effectiveness with the full involvement and release of the talents and energy of its people.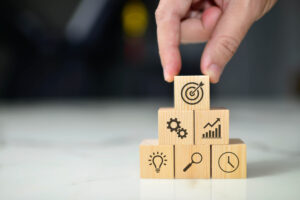 Driving organisational transformation requires work both on vision, strategy and structure, and a parallel journey toward developing an organisational culture, with beliefs, values and behaviours championed by senior leadership and cascaded down through the organisation.
Our approach is to:
Be strategic and have a clear view on desired state aligning business, people and performance strategies (begin with the end in mind).
Prioritise the development of a culture that is fit for purpose and enable the business to deliver its strategic imperatives now and in the future.
Align vision, culture and strategy.
Support organisations to develop leadership and culture that is suited to thriving and performing sustainably in tomorrow's complex business environment.
Start from the top to develop and coach powerful leadership teams and deliver leadership programmes across a range of populations that are all aligned.
Address whole systems such as organisations, departments or teams.
This leads to:
Changes in the ways of working and cultures within organisations.
Continuous improvement in their competitiveness.
Making them better places for people to work.
Do you need to adapt, improve and evolve your organisation? Why not start the conversation today by contacting us