Women in organisations matter. Aside from the opportunities to boost financial performance, increasing the gender diversity of the talent pool and outperforming competitors, research shows that having more female leaders make organisations better places to work. Benefit include higher job satisfaction, more organisational dedication, more meaningful work and less burnout. Essentially, having more women in an organisation is associated with positive outcomes for both men and women.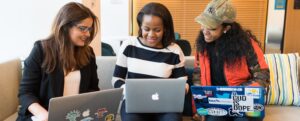 Many companies understand the business case for more diverse leadership. Their challenge is to convert this into tangible change. VA's Women in Leadership programme helps makes a difference to organisations' culture and business performance.
Drawing from evidence-based research, case studies and our own consulting experience, we work with female leaders, as well as organisations that want to drive change and achieve higher performance through:
Increased levels of self-confidence, developing ability and desire to play bigger in the organisation.
Confidence to skilfully challenge unhelpful behaviour and thinking which gets in the way of building inclusive cultures.
Becoming part of a powerful support group of talented women across their organisation who are committed to helping each other grow.
This leads to:
Women who feel ready and confident to be promoted and be actively seeking promotion opportunities leading to a more balanced gender distribution.
Participants identifying their own areas for change with the resources and support from the group to become change-makers.
Greater diversity of thought, improved problem solving and greater business benefits.
Read our case study on how we're developing women leaders of the future by clicking on the link opposite. If you'd like to talk to us about how we can enable your female talent to reach the top get in touch.
"No country can ever truly flourish if it stifles the potential of its women and deprives itself of the contributions of half of its citizens"

– Michelle Obam
Photo by Christina @ wocintechchat.com on Unsplash